Roofing Company Mechanicsville, Maryland
Let us save you the headache of trying to find a reliable roofing company to help you with your roofing needs. We have seen it all and we are ready to help you get your rooftop back in shape. Whether you need a repair, installation, or full replacement, our crew is waiting for your call.
Roof Repair Company
Sometimes all we need to find is a reliable company to assist us with minor repairs. We have been helping families in Mechanicsville save money for years by scheduling yearly maintenance visits. The more frequent maintenance visits are, the longer your rooftop will last. That is where we come in – call us with any questions you have or to schedule your service appointments today!
240-466-4900
Our Services
Roof Repair and Replacement
Roof Installation
Commercial Roofing with TPO Membranes
Flat Roofs for Commercial Buildings
Asphalt Shingles
Leaky Chimney Repair
Ceiling Water Damage Restoration
With over 25 years of experience in the industry and the highest company warranty available from any contractor, you can rest assured knowing that your home or business is "covered" by the best roofing company in the industry!
Our team in Mechanicsville is also experienced in new installations. Are you constructing a new home or business? We specialize in roofs and can have your home or business protected right.
240-466-4900
Roof Replacement
Replacing a rooftop can be a big investment, but we are proud to say that our prices are competitive and the work we do is always thorough. We promise no headaches for our customers because we will do the job correctly the first time around. You will see the friendliness of our team and how hard we work to provide 100% customer satisfaction, with the end result being a beautiful new roof that will last you for many years to come!
Two Brothers Roofing Company
Our roofing company has over 30 years experience in the Mechanicsville area. Our crew is confident that we can help you with any roofing needs you have. We can help save your rooftop with a repair, flashing fix, or a complete replacement. Contact us today!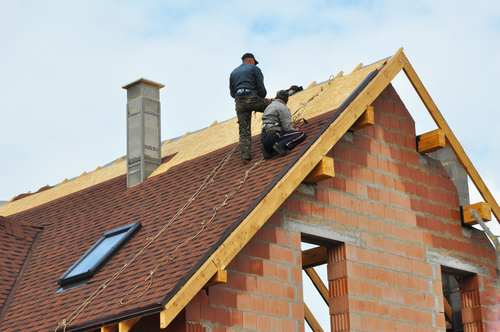 Roof Repair and Replacement Mechanicsville Maryland
Sometimes all we need to find is a reliable roofing company to assist us with minor repairs. We have been helping families save money for years by scheduling yearly roofing maintenance. 
The more diligent our contractors are in keeping up with your roof, the longer it will last. That is where we come in – Call our company with any questions you have or to schedule your repairs in Mechanicsville, MD today!
How Do You Know There's A Problem?
It can be hard to know there's even a problem up there. After all, no one is that tall. But there are signs of a rooftop that needs repaired that you can see from the ground and from inside the house.
Here are some signs that it might be time to call our team in Mechanicsville to come take a closer look:
Singles that are curled, cracked, or absent – these are all indicators of rooftop aging. If you see any of these or you have shingles completely missing it's time to for a replacement.
Shingles that are dark, dirty, or wet – Shingles are supposed to repel moisture and let rain and dampness run off your roof. If your shingles are wet then they're retaining moisture and putting the underlying structures at risk. Keep in mind that if shingles are wet, dark, or dirty, the affected area might be bigger than you think since water rolls downhill.
Lots of shingle granules in the gutters around your roof (you do have these right?). – These granules start to wear away from the shingles as they get old. When you start to see what looks like black sand in your gutters, it's time for your rooftop to get some attention.
Blistering or peeling exterior paint – this is a good indicator that your rooftop or your gutter system isn't doing it's job.
Interior ceilings or wall staining – Water stains on walls or ceilings are the result of many different things. One of which is your roof failing and the underlayment is allowing moisture to get into the interior of your home's walls and ceilings. Call us and we will take care of this problem.
Leaks in the attic after a storm – Sometimes leaks getting into the attic is due to flashing but sometimes it's due to underlayment. If it's the latter, you'll need a full replacement.
These are just some of the signs. For a more in depth evaluation, don't hesitate to call in a professional!
Replacing a rooftop can be a big investment, but we are proud to say that our prices are competitive and the work we do is always thorough. We promise no headaches to our customers because we will do the job correctly the first time around. You will see the friendliness of our team and how hard we work to provide 100% customer satisfaction, with the end result being a beautiful new roof that will last you for many years to come!
Roof Installation
Many people feel that they can skip the professional installation and do it themselves. While this is certainly do-able, there are several things that you need to ask yourself first.
Are you afraid of heights? It goes without saying that if you're doing this yourself, you need to be able to work from heights and face the elements. Your safety depends on your comfort level with heights and how you prepare to be in the weather.
Are you pretty fit? That may sound slightly rude, but again, this isn't an easy job when it comes to physicality. It involves climbing a ladder multiple times with heavy shingles. Your body has to be able to handle the extra workload.
It's much easier on homeowners to call a contractor to come get the job done! It can be cheaper to do it yourself in the short term but if you've never done it before you could either injure yourself or make a mistake that will cost you a lot of money in the long run.
Even if you're experienced, this isn't the most fun to do for the average person. However, it is fun for us! We would be happy to assist you with installation with no extra stress on you!
Roof Installation Steps
Remove Old Shingles (if there is any)
Old shingles will probably need to be removed if there are any. If this is a new construction, this won't be a problem. Many people feel that they can install new shingles over the old ones for extra protection. This actually does the opposite. If the old shingles aren't stripped off it can cause premature failure of the new shingles.
Roof Evaluation
After the old one is removed, our company will look at what's underneath to see if anything needs done before preparing to install the new roof. We look for any moist areas or trouble spots in the sheathing that need to be addressed or replaced.
Protect Against Ice
Being in Maryland, our customers are in an area that gets ice and snow during the winter months. It's important for us to install an ice and water barrier around the rooftop. It's sticky and adheres to the sheathing and then is nailed down for added strength and stability.
Put on the Drip Edge
This goes down in two different parts of the installation. For the lower part it goes down before the underlayment, and for the sides it goes down after the underlayment.
Roof Underlayment Installation
After the first part of the Drip Edge is installed, the underlayment goes down. The underlayment comes in two thicknesses and it's made up of materials that are water resistant.
After the underlayment is installed, it's time to install your materials.
We understand how important it is to get this process done right. Our contractors don't skimp or skip steps in order to save time and/or money. We get the job done right the first time so that your property has the best protection that it can have against the elements.
Call us today and schedule a time to complete your free estimate!
240-466-4900
St Mary's County

Charlotte Hall
Chaotic
Morganza
Hollywood
Leonardtown
Lexington Park
St Mary's city
Ridge
Scotland
St Inigoes
Piney point
Charlotte Hall
Mechanicsville
Chaotic
Morganza
Hollywood
Leonardtown
Lexington Park
St Mary's city
Ridge
Scotland
St Inigoes
Piney point
20659
Commercial Roofing with TPO Membranes

TPO (Thermoplastic Polyolefin) is a single-ply reflective membrane made of polypropylene and ethylene-propylene rubber. It's usually installed so that the white membrane is exposed throughout the life of the roof.
There are several advantages to TPO:
ENERGY EFFICIENT: TPO membranes are highly energy efficient. The white reflective surface of the membrane goes way past EPA's ENERGY STAR requirements (we love that!). This means that your energy costs will be reduced because the interior of your facility will be kept comfortable on especially hot summer days.
EASY INSTALLATION: TPO membranes are lightweight and are manufactured with wider sheets. The material is easier to install and doesn't have as many seams to seal. This helps you save on installation because it takes less time to install and doesn't require as high a labor cost.
DURABLE: TPO is resistant to mold, dirt, tears, and punctures. Also, because of the strength of
TPO can handle a building's regular expansion and contraction more effectively than single-ply products.
Our technicians are trained and qualified to install TPO roofing in Mechanicsville, Maryland. If you think this type is best for your building, give us a call!
Flat Roofs for Commercial Buildings
The main point of a rooftop, whether flat or sloped, is to maintain the watertight integrity of a building and keep the underlying structures dry. This used to be a simple process. Now, today's variety of flat or low slope roofing options has grown and is no longer simple.
Why have a flat roof?
That's a great question! Flat roofs are absolutely everywhere. Factories, department stores, apartment buildings, large public structures, warehouses, and schools, all usually have pretty flat roofs. A flat roof's design is both efficient and economical.
Cost
Part of the reason why flat roofs are so popular with commercial facilities is that they're very cost efficient. Budget is usually a concern for many companies because businesses are large and have a decent area to cover.
Flat commercial roofs are cheaper to install because they require fewer materials. Extra framing costs are usually involved when you start adding peaks and valleys in the design.
Just like with residential structures, commercial roofs still require a drainage system. With how
large commercial facilities are, this can increase the cost but overall, it's cheaper and ends up saving companies money over the course of the installation.
We refer to these roofs as flat but usually there is a 2% slope to allow rainwater and snow to drain off. If water is allowed to sit on top, it can add weight and potentially cause damage.
Practicality
Another reason why "flat" roofs are so popular is that they're very practical for designing and constructing a commercial rooftop. They're much easier for contractors to install on large buildings. Also if you installed a sloped roof it would either have to be very tall or have multiple peaks and valleys.
Retail and industrial companies must maximize their square footage so it wouldn't make much sense to invest in sloped roofing. That money is best used elsewhere.
Space For Equipment
With commercial roofs, there is a need to put equipment on that isn't required with residential structures. Usually things like air conditioners and other heating and cooling equipment needs to be up there. Mounting this equipment at ground level usually isn't allowed by code and can pose a number of safety and security problems.
Machinery can often be tucked away in basements or other storage areas but on the ground they take up a lot of room and cause safety and comfort issues.
Flat roofs are an excellent solution. They provide a large, flat area that's completely out of the way of commercial traffic. People and equipment are safe and they're easily accessible for repairs and/or maintenance. The only risk is that it leaves the machinery open to the elements.
Do you have a commercial facility in Mechanicsville, Maryland and looking for rooftop repair or installation? Two Brothers Roofing has the skills to get the job done. The length of time that your roof lasts very much depends on who and how it was installed. Our technicians are trained right from day one. We're here to assist you!
240-466-4900
Asphalt Shingles

Asphalt shingles are one of the least expensive roofing materials. They also come in a wide variety of colors. It's very popular for use in homes and smaller residential projects because not only is it not very expensive, the installation process is simple because the singles are flexible. These shingles are also available in different textures and thickness and they can be treated against mold and mildew.
Asphalt shingles come in two categories. Both organic and fiberglass.
Organic shingles are made up of paper. They have an asphalt coating that gives them waterproof properties.
Fiberglass shingles are better for fire protection. They are also treated with a protective resin coating that gives them their waterproof properties.
Pros of asphalt shingles:
Easy installation
Economical
Last a long time
Can be recycled
Cons of asphalt shingles:
Sudden weather changes can cause decay
Wind can cause uplift
Maintenance is required
Not environmentally friendly (even organic ones)
Leaky Chimney Repair

If you're having problems with a leaking chimney in Mechanicsville Maryland call now to talk to a contractor.
There are several reasons why your chimney would leak:
Water Coming In Directly From the Top From Rain or Snow
Chimneys without covers get a lot of rain falling into them. A chimney cover not only keeps the rain out, but it keeps out birds, animals, and other debris that can cause issues.
Cracks in the Chimney Crown
The crown is the cement part on the top of the chimney. The bricks go around the flute lines but the crown is open at the top. You need something to stop the rain, snow, and other moisture from falling in around the tiles. The very purpose of the chimney crown is to keep the rain out but if it's cracked, moisture can seep in.
Leaking From the Inside Out from Condensation
In some older houses, the chimney isn't installed and properly fitted with a properly sized liner, if at all.
Chimney Flashing
Chimney flashing is what keeps the water from going into the place where the brick structure comes through the rooftop. If the gap between the bricks and the roof isn't properly sealed up, water will pour right through and cause leaks.
Leaks are never fun. Call Two Brothers Roofing Contractors for an evaluation and an estimate! We will never charge you for more than you need. You can trust your rooftop and chimney repairs with us.
How to Stop Leaks with Temporary Tarping and Tar Patches

Discovering you have a leak is never fun, especially when water is actually leaking into your home. If your roof begins to leak during a holiday weekend or during some other time when you can't get assistance right away, sometimes a temporary repair is needed.
Tarping
One of the quickest and least expensive ways you can temporarily fix a leak is to cover the affected area with plastic tarp. Make sure that you get one that can be used outdoors and is big enough to cover the entire affected area.
Once you get the tarp in the area, wrap it tightly down onto the surface, smooth it out, and nail down the edges. Make sure you cover the nail heads with roofing cement so that water doesn't seep into the holes.
Tar Patches
If you don't have access to tarp but have roofing tar on hand, you can use tar to patch a leak but it's not ideal. Even though it is roofing tar, after all, and it can be applied when the roof itself is web, it can cause more problems than it actually solves.
If you absolutely have to use tar, be aware that it's just a temporary fix. Over a fairly short period of time, the tar is going to begin to dry and crack. In those cracks, the same leak that you tried to patch will be once again exposed.
While you may have been able to replace a broken shingle or piece of chimney lead easily before, now you have to remove the tar and the damaged shingles before a professional can repair the rooftop properly.
Having your roof repaired the first time can save you a lot of time and money in the long run. Give Two Brothers Roofing a call to take care of your roof leaks!
Water Damage Restoration To Your Ceiling
Water, as life-giving as it is, can definitely be destructive. When it gets into the drywall that's on your walls and ceilings not only can it be unsightly but it can weaken the structure enough that it collapses and falls apart. I'm sure you know this can cause huge homeowner headaches.
No need to panic, ceilings can be repaired and their strength and aesthetics restored.
There are several things that need to happen to repair a ceiling that has water marks and/or has weakened due to damage.
Step 1: Find the water leak.
If you haven't found the water leak yet, it's imperative that this happens first. This goes without saying but if you don't take care of the source first you'll just end up with the same problem.
Two Brothers Roofing has the tools and the skills to find a way to stop leaks fast!
Step 2: Remove water-damaged drywall
Before you start tearing this down, make sure that drop cloths are laid down in the area to protect flooring and furniture.
Remove all compromised drywall by hand or use a hammer or wrecking bar to remove it.
For safety, make sure you're wearing goggles, especially when dealing with ceilings!
Step 3: Repair
If you're using a patch for a small area, cut a replacement square from a piece of drywall to fit that's 2" longer and 2" wider than the whole to be filled in. Damaged areas more than 12 square inches may need a complete replacement panel installed. Large pieces of drywall need to be anchored to ceiling joists.
Step 4: Prime and Paint
Apply Primer/Sealer with a large paintbrush or roller applicator. Cover the entire surface of the wall.
After priming, paint over the area.
Step 5: Clean Up
Use a shop vacuum to clean up dust and debris. Also pick up any drop cloths, remove painter's tape, and clean any brushes or rollers.
Issues and leaks can definitely be enough to ruin your day. Reach out to Two Brothers Roofing for your roofing needs. No need to stress or worry about whether it's done right. Our roofing jobs come with a guarantee!
240-466-4900
Two Brothers Roofing
Average rating:
14 reviews
Sep 15, 2019
Great job! The roof looks great!
Sep 12, 2019
very inspiring work. I may add onto the house and if I do, I'll be using Two Brothers for our roofing needs.
Sep 7, 2019
These guys definitely know what they're doing. If you need a roofer, give them a call.
Sep 6, 2019
Two Brothers Roofing just did the roof for my store. Very good job, very low mess.
Sep 5, 2019
I love the job that Two Brothers Roofing has done on my house. Very nice!
Sep 3, 2019
These roofers are good at what they do. Not only do they fix and install roofs, they educate the homeowner. Really appreciative!
Sep 3, 2019
These roofers do excellent work. Thumbs up!
Aug 22, 2019
We are a repeat customers and have used two brothers roofing for both houses we own and at different times. They were great both times!! We always recommend this company for giving 5 star results.
Aug 20, 2019
Two brothers roofing was highly recommended to us by our neighbors. The team was very professional plus they responded to our inquiries in a timely manner. The project was completed as scheduled with attention to detail and the clean-up was exceptional.
Aug 16, 2019
These guys are awesome. Very professional and fast. Arrived and completed on time. Cleaned up very well.