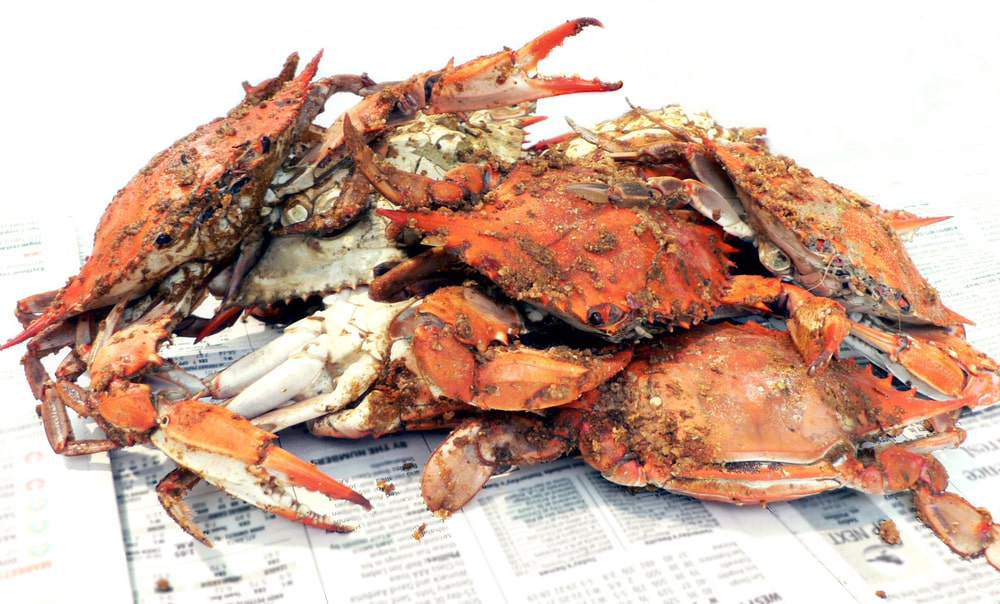 When you think of Maryland… what food comes to your mind? Although Fried Chicken and Stuffed Ham are high on the list, there is an undisputed King of the Bay. Blue crabs are the cuisine that reigns supreme here and there is no place better to enjoy them than the southern part of the state!
Southern Maryland Blue Crabs – Smash and Grab!
These delicacies are some of the most popular seafood in the country and have been harvested in the Chesapeake Bay for centuries. These scrumptious crustaceans are usually steamed and then served with Old Bay seasoning, a state tradition. Southern Maryland is home to some of the best crab houses around, where you can enjoy them all year round!
If you're planning a trip, be sure to add crabbing to your list of things to do. Catching them is a popular pastime in the summer months and can be done right from the docks in many of the towns along the Chesapeake Bay. You'll need a net and some bait, but it's well worth it!
A delicious side dish is corn on the cob. Corn is in season during the summer months, making it the perfect accompaniment to crabs which are typically in season from April through November. Locals love to eat them outdoors, usually at a picnic table with newspaper spread out on top to catch any stray bits.
The best drink to go along with them is, of course, beer! A cold beer is the perfect way to wash down a batch of steamed crabs. And what better place to enjoy a beer than at one of many local breweries?
If you're looking for a truly authentic Maryland experience, there's no better place to go than St. Mary's County. This rural county is located on the western shore of the Chesapeake Bay and is home to some of the best crabbing spots in the state. In addition to being able to enjoy this fresh food, you can also explore the many historical sites in the area.
Whether you're a local looking for a new seafood spot or a visitor in search of the perfect Crab Cake, this is the place to be! Check out our list of the best seafood houses in the area.
Local Seafood Houses
J.M. Clayton's Seafood – Cambridge
Ruddy Duck Brewery & Grill – Solomons
Hemingway's Restaurant – St. Michaels
Crab Deck – Chesapeake Beach
Captain Kidd's Crabhouse – North East
Fisherman's Inn & Crab Deck – Grasonville
Kentmorr Restaurant – Stevensville
Harris Crab House – Kent Narrows
Skipper's Pier – Deale
The Islander Restaurant – Tilghman
Blue crabs are a Maryland tradition and this is the perfect place to enjoy them! Our list of the best seafood houses in the area will help you find the perfect spot to enjoy some fresh-caught Blue crabs.
Whether you're a native or just visiting for the first time, be sure to add Southern Maryland to your crab-eating itinerary! Now that you know all about them, it's time to go out and enjoy some for yourself! Be sure to check out one of the seafood houses on our list!
Call Two Brothers Roofing in Southern Maryland for all your roofing needs!
Our Service Areas: